When you decide that you want to travel internationally, you already know that the trip is going to be expensive. 
However, just because there is no way to do it inexpensively, that doesn't mean you have to put yourself in debt to travel abroad. 
The following shows how many citizens of the United States traveled to different countries between January and April of 2016: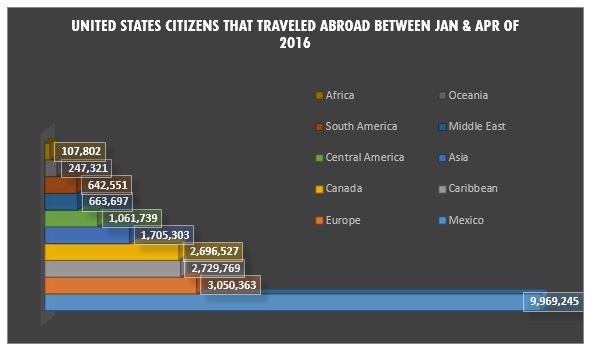 With so many people traveling abroad, it is important that you know ways you can save yourself a little money while on your trip. 
These tips will help you cut down on the expenses and save enough money to survive when you return home.
Don't Break Yourself Exchanging Currency
The first thing you want to do is consider where you are going to exchange your currency. 
Kiosks at airports are known to charge higher rates when exchanging currency. 
Many of them even charge fees. 
Better rates come from the ATM. 
The fee associated with this method is generally between one and three percent. 
Using the ATM may be a better decision than paying cash. 
However, using a credit card for anything you need to purchase is normally the most cost effective decision.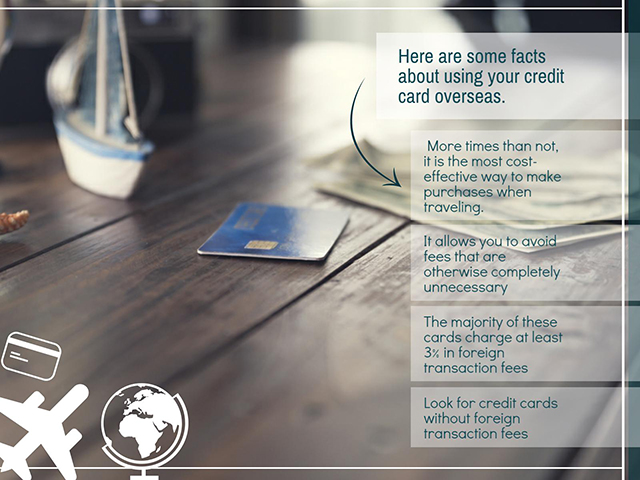 Be Brave and Negotiate
It doesn't matter where you are shopping. 
You may be at the market, or simply looking for souvenirs sold by a street vendor.
 No matter where you are, don't be afraid to haggle.
Repeat to yourself that you are ok with walking away from unfair prices. 
This shows the vendor that you are serious about obtaining a fair price for your merchandise.
If you are in an area that speaks a different language, then haggling can become difficult. 
However, it is not impossible. 
You can use your phone in order to negotiate by typing the price you feel is fair into your calculator.
Public Transit
You should also consider taking public transportation in order to get where you are going. 
It may be an easier task to get into a cab and go where you need to be. 
However, this is rarely the cheapest option while traveling.
Think about if you are traveling from the Heathrow International Airport and plan to go to central London. 
The price of taking a taxi can be as much as 90 pounds or 117 dollars. 
Instead, you should consider taking the tube. 
The Tube costs less than 6 pounds, or 8 dollars, for each individual. 
Numerous cities also provide unlimited travel passes for a period of three to seven days, and provide a discounted rate.
Avoid Downtown
You want to make sure that you avoid staying in a downtown area. 
Residing in areas that are popular neighborhoods will end up costing you much more money.   
Instead stay in a hotel or in an Airbnb that is located on the outskirts of the city.
These are normally a mere fifteen to twenty-minute ride, to the city you wish to visit. 
However, making the drive rather than staying in the city can save you a significant amount of money while you are on your trip.
Don't Travel During the On-Season
Below shows individuals that travel from EU residents from four countries during the course of a one-year time.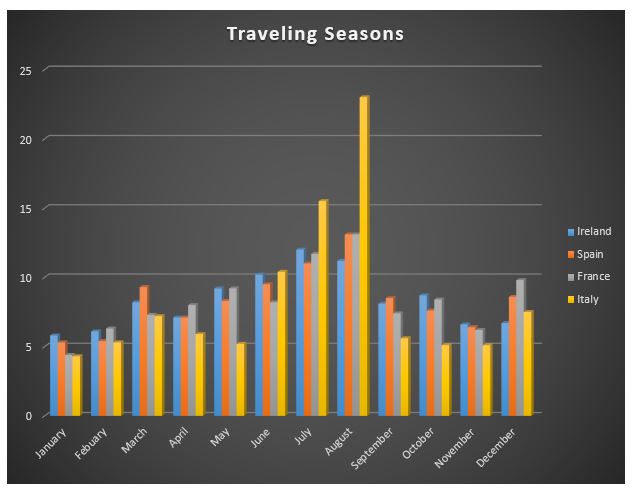 As you can see, the months of June, July, and especially August are the highest months for travel. 
September and October are the periods after the rush. 
Generally, January and February are the time of the year that the least amount of people go on trips.
The truth of the matter is that the price for airfare drops dramatically in the fall. 
Hopper states that the price to travel internationally, to locations such as Tokyo, Cancun, and Vancouver, will significantly drop during the Autumn months.
There are ways that you can ensure that you remain on top of the numerous prices:
Make sure that you pay attention to the current rates and trends

Use your favorite booking site or app and make sure that you set an alert to inform you when the fare changes.

Wait until the prices drop

Once they drop, do not hesitate to book your trip.