On average, there are 99,726 flights crossing the globe each day.
Each of these flights costs a different amount, ranging from free to thousands of dollars.
Ever wondered why you paid a huge fee for your flight, and then found out that the person next to you paid just a fraction of the cost?
Well, we're here to tell you why. 
It seems like every other site on the internet thinks they have found the secret to cheap flights.
But you know that time is precious, and you probably don't have time to sift through these to find the real truth.
Lucky for you, we've combined the best advice from across the web here to show you ways to save money on airfare.
Start Your Search Right

In our age, where there are over 54,000 Google searches a second, it's easy to forget that our searches are carefully tracked.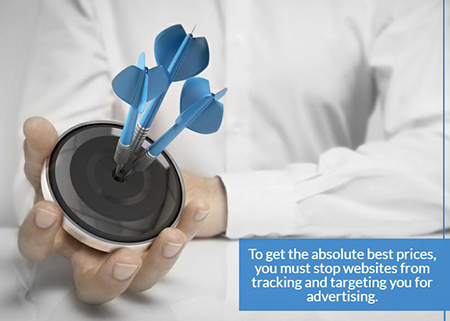 Or else you'll get an insane number of pop-ups trying to scam you into buying "cheap" prices with huge fees.
It has been proven that flight prices actually increase when flights for that day are searched repeatedly.
Turn your browser to incognito mode to get the best prices.
This differs by browser, but it is usually done by pressing Control-N or Control-Shift-N.

Which search engine you use also comes in to play big time.
Most engines take a cut out of flight sales, so they are often booking with inflated prices at some level.
You should not just choose one search engine, instead using a combination of multiple different engines to make sure you don't miss any results. Skyscanner, JetRadar, and AirFare Watchdog usually get their results from a variety of sources, so the overlap should get you all the results you need.
Get Familiar with Budget Airlines
Your friends may have told you to steer clear of budget airlines, but they actually often have much of the comfort and amenities of economy flights. Make sure to read the flight contract carefully though.
While budget airlines don't usually skimp on services, they are usually able to keep costs low by being pretty inflexible with reschedules and cancellations.
Flight Day is Everything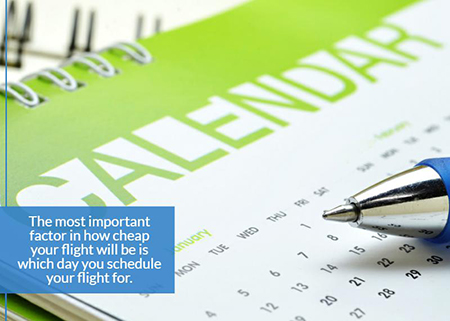 If you go to Skyscanner and type in the date you want, then view the whole month on the calendar, you can see the whole huge range of prices for each day.
You will see which day will be cheapest for your destination and origin.
There is not a hard and fast rule, so check many different weeks to see if there is a cheaper one.
Cheap-o-air has a system which they believe helps people find the best day to fly.
Flights average their cheapest price around 47 days before the flight (but not always exactly).
Then, once you get within two weeks of the flight, they start to get much more expensive.
So start your flight search early enough to give yourself at least two months of leeway, then you can try to remain flexible with the day of the week your flight leaves.
24 Hour Rule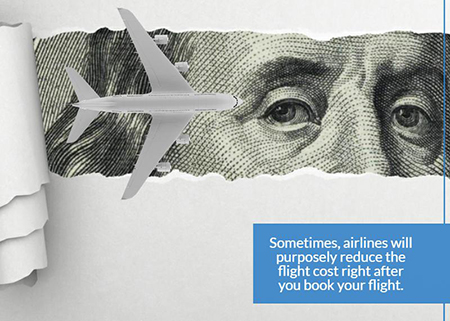 Check the airline website 24 hours after your booking.
If the flight has gone up in cost, call the airline to cancel and rebook.
Many airlines will do this for no additional cost if it is far enough ahead of the flight.
Sometimes, it will be at a cost, but depending on the difference in price, you can still save money.
Last Minute Trips and Airline Alerts
Many people believe waiting until the last minute is the best way to book a trip.
However, this has been debunked, since costs often go up the longer you wait.
In order to make a planned trip, you should not take this approach.
However, if you are hoping to make a spur of the moment trip which you don't need to be on a specific day or week, you can use this approach to your advantage.
Many airlines will sell very cheap flights when they cannot fill up a flight the day of or the day before.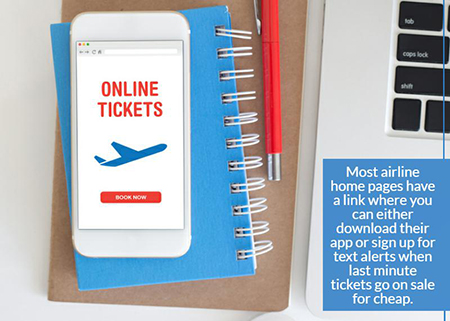 So this is a useful strategy for a fun vacation, but not a crucial trip.
Be Flexible
You may have noticed one overarching theme through all of these tips.
Flexibility is essential!
In general, the best days to fly are:
Winter or low season: times when vacations are not popular in your region of origin and departure

Tuesdays and Wednesdays: these midweek flights are usually not popular with either tourists or businesspeople
The overall worst days to fly are:
Christmas and New Year's, and all the days surrounding them. These are extremely popular travel times, and hence very expensive

The week of Thanksgiving

Summertime, Spring Break, and other "vacation" periods
Despite these proven average trends, it is impossible to predict which day will actually be cheapest for your particular route.
The best approach is to have at least a three day window open where you will be able to stay flexible and book on any of those days.
The bigger the window, the better.
Same goes for flexibility of departure.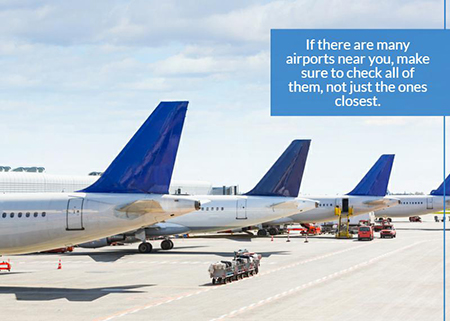 I personally have saved hundreds of dollars by taking a bus to a bigger airport, then departing, instead of flying out of a smaller airport near me.