Once you take out an auto loan, you're stuck with it, right?
Not necessarily.
If you need to improve your financial situation, your auto loan might be a good place.
Auto Loan Refinancing
Many car owners still don't know that it is as easy to refinance an auto loan as it is to renegotiate a mortgage.
Or that, in some cases, you could save hundreds of dollars on your monthly repayments if you do so.
In many circumstances, refinancing a car loan can improve your situation.
However, there are instances where it would be better to stick with what you have.
So how can you figure out which is the best option for you?
Is it for me?
There are several factors to consider before deciding if you should refinance your car:
Interest rates
Your credit score
Changes to your income
Car age
Interest rates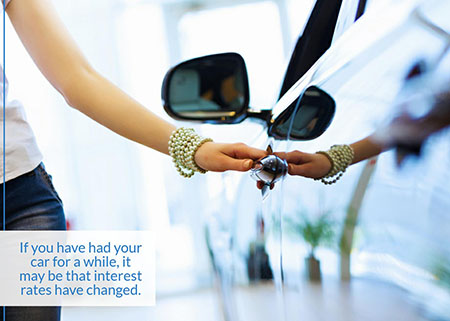 If they have dropped, refinancing could reduce your monthly payments.
Follow this link for an example.
Your credit score
If you had a poor credit rating when you bought your car, your loan might have a high interest rate.
The chart below shows the correlation between your credit rating and the interest rate: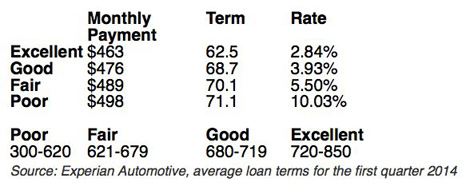 Regular monthly payments since then may have improved your rating.
Refinancing now would allow you to negotiate a lower rate of interest and save money.
If you have poor credit now, it doesn't have to stop you refinancing your car loan.
You will not be eligible for prime interest rates, but many lenders also offer sub-prime loans.
These may still allow you to improve your financial situation by lowering your monthly payments.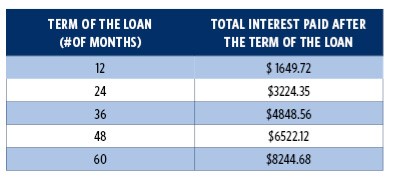 Source: https://seceij.net/seceij/winter12/incorporating_q.html
You will need to do careful research.
Follow this link for more advice.
Changes to your income
If you don't have as much money coming in, refinancing at a lower interest rate or for a longer loan term would lower your monthly payments.
That would give you more disposable income.
Keep in mind though, a longer term means more interest over time.
However, if you are earning more now than you were when you purchased the vehicle, you could shorten your loan term and pay less total interest.
Car age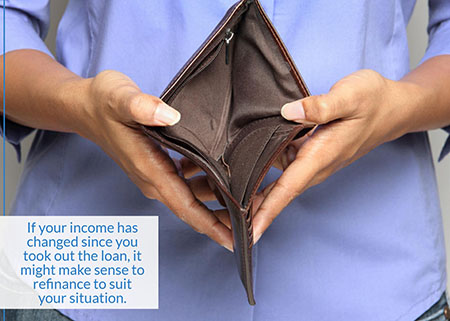 Since the security for your loan is your car, you are likely to get a lower rate of interest when refinancing a newer car.
This is because, if the lender has to repossess your vehicle should you default, they will be able to make more money on a newer car.
The chart below shows the APR on a new car is as low as 1.79% as compared to a used car at 3.59%.



Source: http://www.magnifymoney.com/blog/reviews/review-navy-federal-credit-union-auto-loan917251454
If you have an older vehicle, refinancing may not save you any money as the interest rate may be higher.
Some creditors may even refuse to refinance an older car.
Will I qualify?
Three factors need to be taken into account here: you, your car, and your loan.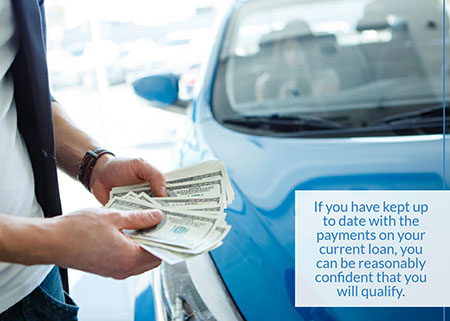 If your car is no more than 8 years old and has done fewer than 100,000 miles, you should be able to refinance it.
However, bear in mind that some specialty collectible cars may be excluded.
A loan balance that is too high or too low may make refinancing more difficult.

will not offer loans on balances under $10,000
, since the amount of interest they will receive won't be worth it.
Account fees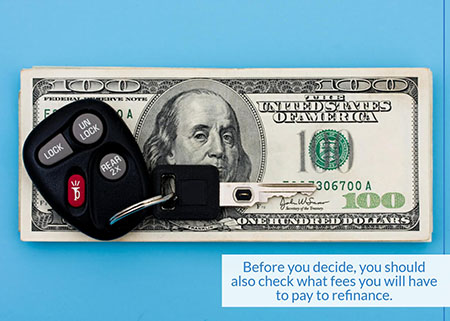 These may include an early termination fee, a transaction fee to close your existing loan, and another transaction fee to set up the new loan.
You will also have to pay to retitle your vehicle (cost varies from state to state – check here).
If the costs are exceptionally high, you may not save as much as you had hoped.
It is worth comparing a few lenders and also checking if they would be willing to waive or lower some of the fees.
What next?
If you decide that refinancing would be helpful for you, here's what you should do.
First, you should make sure you know the details of your current loan, and compare them with the deals available to you.
It may be helpful to use a website (e.g. Wallet Hub or Money Supermarket), to compare quotes.
If you do your homework, you are likely to get a much better deal.
Once you have done your research, apply to a couple of companies or banks.
Many will allow you do do this online and give you an immediate offer.
Then you just choose the best one.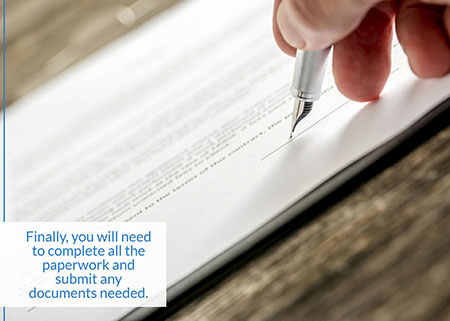 These will include proofs of your income, insurance and identity as well as the car's Vehicle Identification Number (VIN) and the number of miles it has.
In conclusion, if you are finding the payments on your auto loan problematic and want to improve your situation, refinancing could be a valuable thing to look into.
The important thing is to do your research carefully.
Just bear in mind that it isn't the perfect solution for everyone.