With Halloween just around the corner, it is likely that you are getting your costume ready and planning lots of things to ensure that the 'holiday' is as fun as possible.
Of course, if you are not careful, the costs of Halloween will quickly start to stack up. You could easily spend hundreds of dollars without realizing it.

Let's look at some tips to save money on Halloween so you can enjoy yourself without going broke.
How much is spent on Halloween? 
A lot.
Seriously.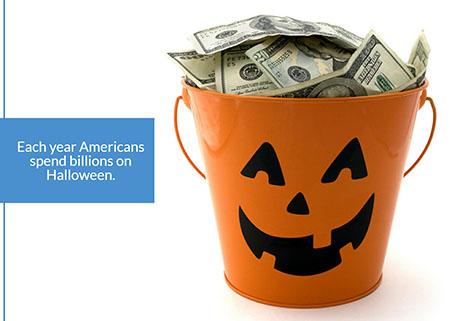 This graph shows the average amount each American spends on Halloween every year. This covers everything from costumes to candy to decorations.
As you can see, the costs are on the rise.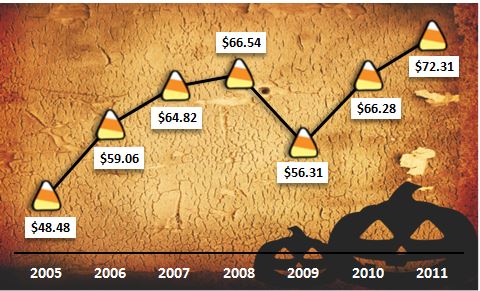 Source: http://www.darkshadowghosttours.com/100-halloween-fun-facts.html
Take a peek at the chart below. As you can see, people spend more on Halloween each year than things like lawn care.
Note: Halloween lasts only 1 day, while you take care of your yard year round!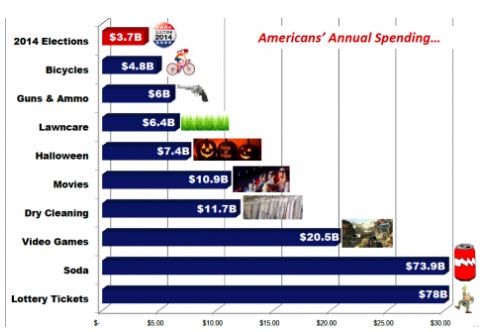 Source: https://www.washingtonpost.com/news/the-fix/wp/2014/11/06/the-2014-election-cost-3-7-billion-we-spend-twice-that-much-on-halloween/
Let's break down the amount spent on each aspect of Halloween. Surprisingly, pet costumes have a huge slice of the market.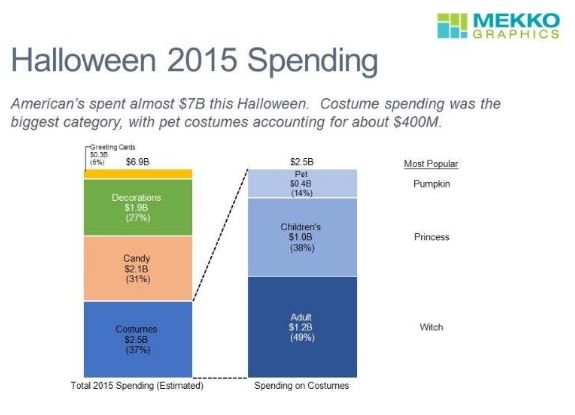 Source: https://www.linkedin.com/pulse/how-much-do-americans-spend-halloween-david-goldstein
Candy
This is where a lot of your cash is going to be spent when it comes to Halloween. Thankfully, you will be able to trim your costs considerably here. These tips come from Investopedia:
Purchase candy online rather than the store. You will save a lot of cash.

Purchase the candy in advance. Remember, prices are going to rise drastically as Halloween creeps closer.
Costumes
How can Halloween be complete without costumes? Just look at that chart above! If you want to save a considerable amount of money, particularly when it comes to children's Halloween costumes, then you may want to check out something known as 'The Costume Game' which can be found on Dave Ramsey's website.
However, there are a few other things that you will be able to do if you want to save money on costumes this Halloween.
For example, the following can help: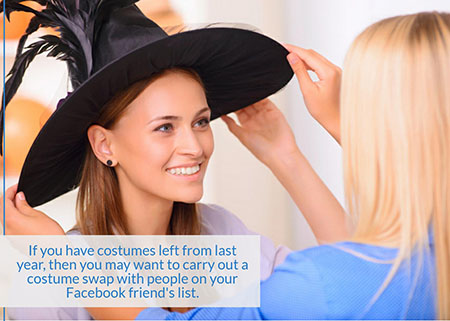 This means that you will not have to buy a new costume at all!

Make your own costumes. It isn't too difficult, even if you are not a master of arts and crafts.



Meals and Snacks
If you are having a Halloween party, then you may not wish to purchase all of the snacks on your own. Instead, have a sort-of 'pot luck'. Everybody that comes to the party brings their own food which can then be shared among people. Make sure you know what each person is bringing in advance. This way you are not going to end up with a ton of the same thing, which is never going to be good!
If you are making the food, then actually make it from scratch. Yes, it can be tempting to purchase 'ready-made' food. There is a lot to do when you are running a party, but the cost of this will will start to add up very quickly!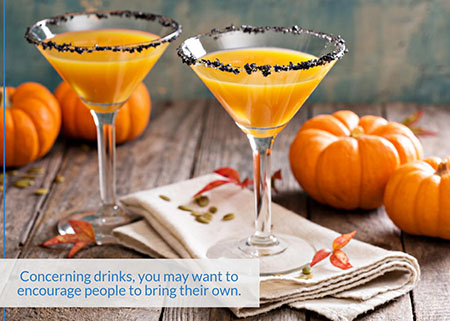 You can make the non-alcoholic ones, as this is going to be very cheap to do. One recipe that seems to go down well at Halloween is Harry Potter-style 'Butter Beer'.  
Activities
You do not need to spend a lot of money when it comes to activities when Halloween rolls around. You may want to consider the following options:
Free 'harvest' activities in your local area. There are likely to be a few festivals you can head to.

Have an activity session with your children (if you have them). You can carve pumpkins or cook food.
Decorations
Finally, when it comes to decorations, you may want to make your own! Yes, it is going to take some effort on your part, but at least it can be a fun family activity!
You might also want to consider buying decorations from the Dollar stores which will save a great deal of money. 

The staple of Halloween is, of course, the carved pumpkin. Buy your pumpkin on the 30th October. Yes, it is a little late, but this is when stores are going to start to reduce the cost of their stock!